2020 Idelio Award Winner, Danielle McGill & Executive Director, Valerie Breen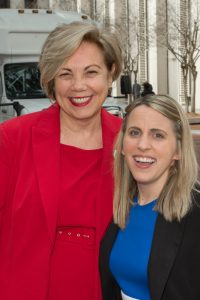 Fort Lauderdale resident Danielle McGill received the 11th Annual Idelio Valdes Leadership and Advocacy Award – the state's top honor recognizing an individual with a developmental disability. The award is presented each year by the Florida Developmental Disabilities Council (FDDC) to self-advocates who have helped develop partnerships for the facilitation of community integration, employment and inclusion for Floridians with developmental disabilities.
McGill was selected to receive this prestigious award for her efforts in promoting disability awareness throughout her community and exemplary personal achievements, which include serving on local, state and national councils and implementing programs to raise awareness about the value and importance of inclusion and services for all.
McGill currently serves as the Advocacy Coordinator of the Ann Storck Center – an organization dedicated to enriching the lives of children and adults with developmental disabilities. She also is a Policy Leadership Fellow for the Self Advocacy Resource and Technical Assistance Center where her advocacy has brought awareness about transportation and integrative employment through her A Ride Away Program across Florida for individuals with disabilities.
"Danielle teaches others to become their own self-advocates not just in navigating their environment, but in the world of work," stated Ann Storck Center CEO Terri Shermett, who nominated McGill for the award. "Her philosophy is simple: we must empower abilities through opening doors to possibilities."
McGill's journey to independence is an example of self-determination against all odds. Her mission is to educate while empowering others to become their own self-advocate. By sharing real-life experiences, McGill encourages society to view individuals' disabilities as possibilities.
Representative Evan Jenne (D-Dania Beach-Broward D-99) presented the award on February 10 during FDDC's annual Developmental Disabilities Awareness Day (DD Day) banquet in Tallahassee. She was recognized during the organization's annual awareness day and rally at the Capitol on February 11.